An ancient Japanese technique protects cedar by charring it a witchy charcoal. It's having a renaissance in the West (for less practical reasons).
ON THE WINDSWEPT southern side of Martha's Vineyard, at the end of a rural road that emerges from a dark copse of oak trees, sit two austere, inky-black farmhouse-style buildings — a studio and a private residence — that compose Chilmark House. Designed by the New Haven, Conn., firm Gray Organschi Architecture with Aaron Schiller, founder of the New York City-based Schiller Projects, the home, which was built for Schiller's family, is clad in approximately 80 charred louvers he torched entirely by hand. The striking ebony hue feels at once ancient and modern: Here is the enveloping matte darkness of Anish Kapoor's Vantablack paint and the glittering primordial obsidian of lava rock. In the foggy early morning light, as the heavy marine layer rolls off the Atlantic, the house emerges dark and startling, as though it was dipped in oil. At other times of day, its opaque blackness, which seems to absorb all the light that surrounds it, acts as a kind of backdrop for the sky's quicksilver mood changes.
Schiller, like an increasing number of Western architects and designers these days, created the house's arresting exterior using a process known as shou sugi ban, a ­centuries-old Japanese ­technique for preserving and finishing wood by charring it with fire. The treatment — which leaves behind a dense, carbonized layer of blackness — has been around since at least the 18th century, though earlier examples exist. It began as a practical process used mostly for fencing and the facades of rural homes and storehouses, which held valuables, like rice, that families hoped to protect from blazes. Interestingly, while it is no longer as popular as it once was in Japan, it's found new life in the West. ''It's become quite stylish,'' says Marc Keane, a landscape architect and author who has lived and worked in Kyoto for 18 years, ''but in the past, in Japan, it was considered countrified.''
Shou sugi ban is the Westernized term for what is known in Japan as yaki sugi-ita (or just yakisugi), which translates loosely into ''burned cedar board.'' (Although in English ''sugi'' is colloquially defined as cedar, it's actually Cryptomeria japonica, a Cypress-family species indigenous to Japan.) To achieve the effect, planks of wood are treated with heat on their outward faces only: Traditionally, three boards are tied together lengthwise to form a triangular tunnel. The interior is then set on fire and the scorched surface cooled with water.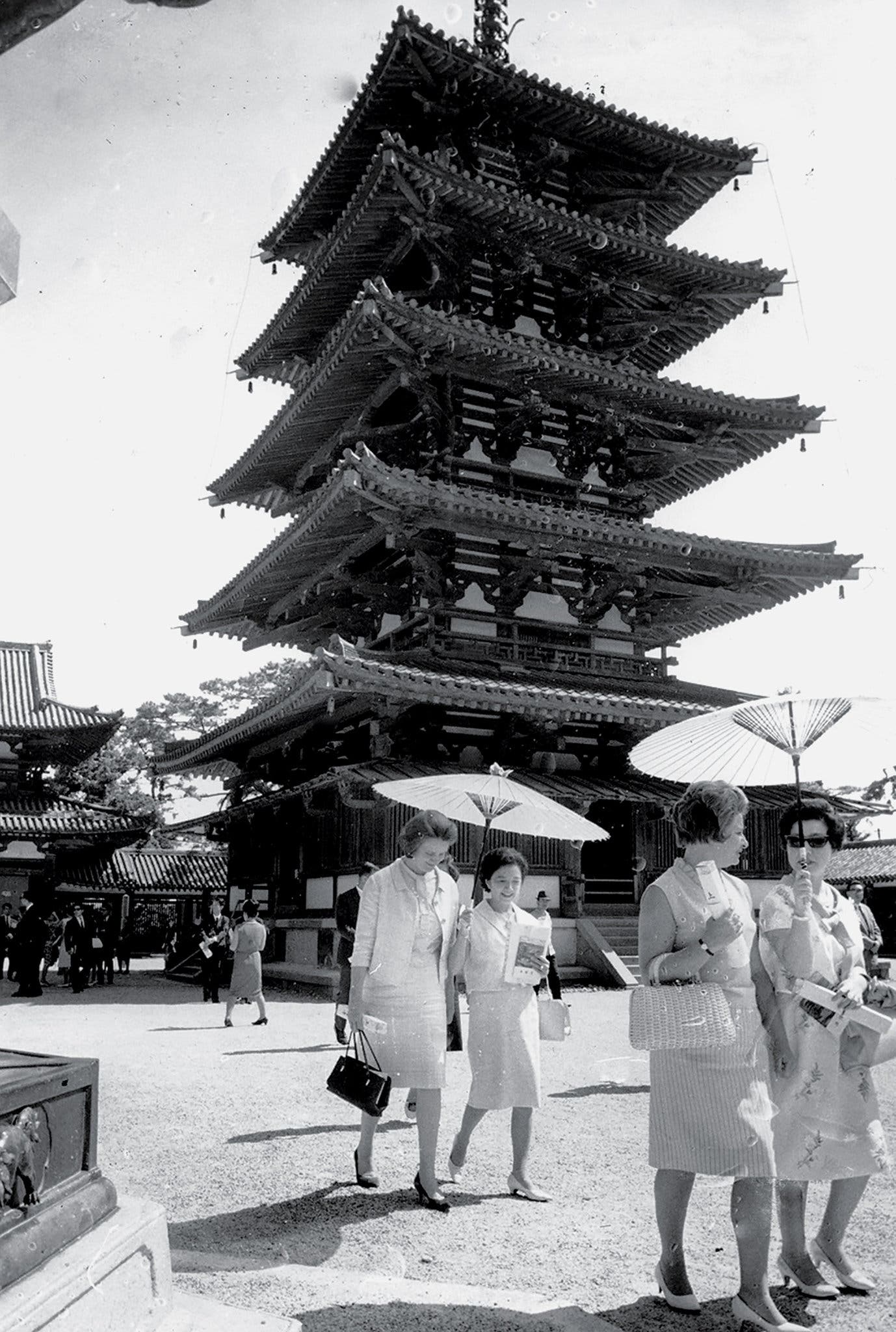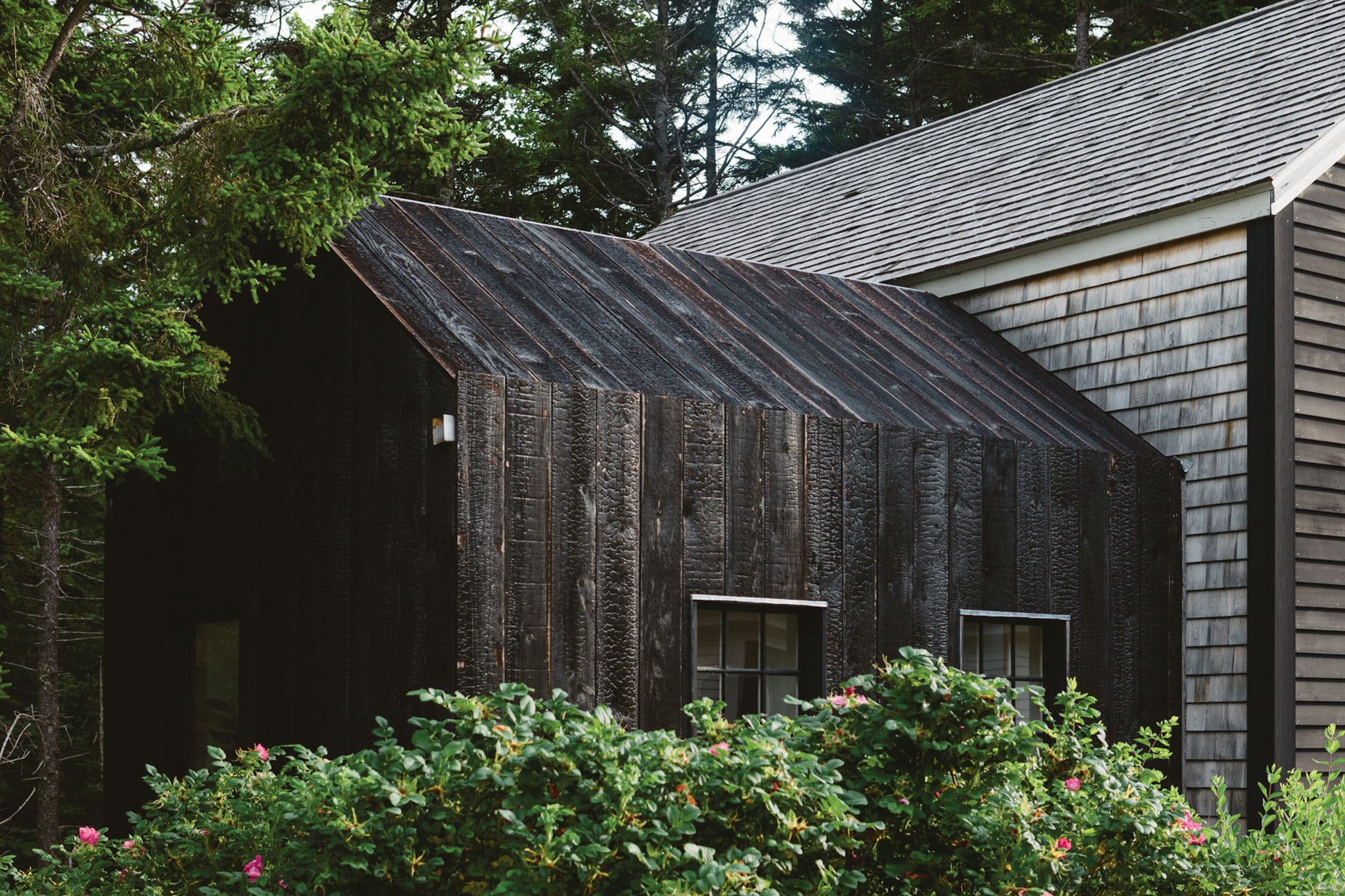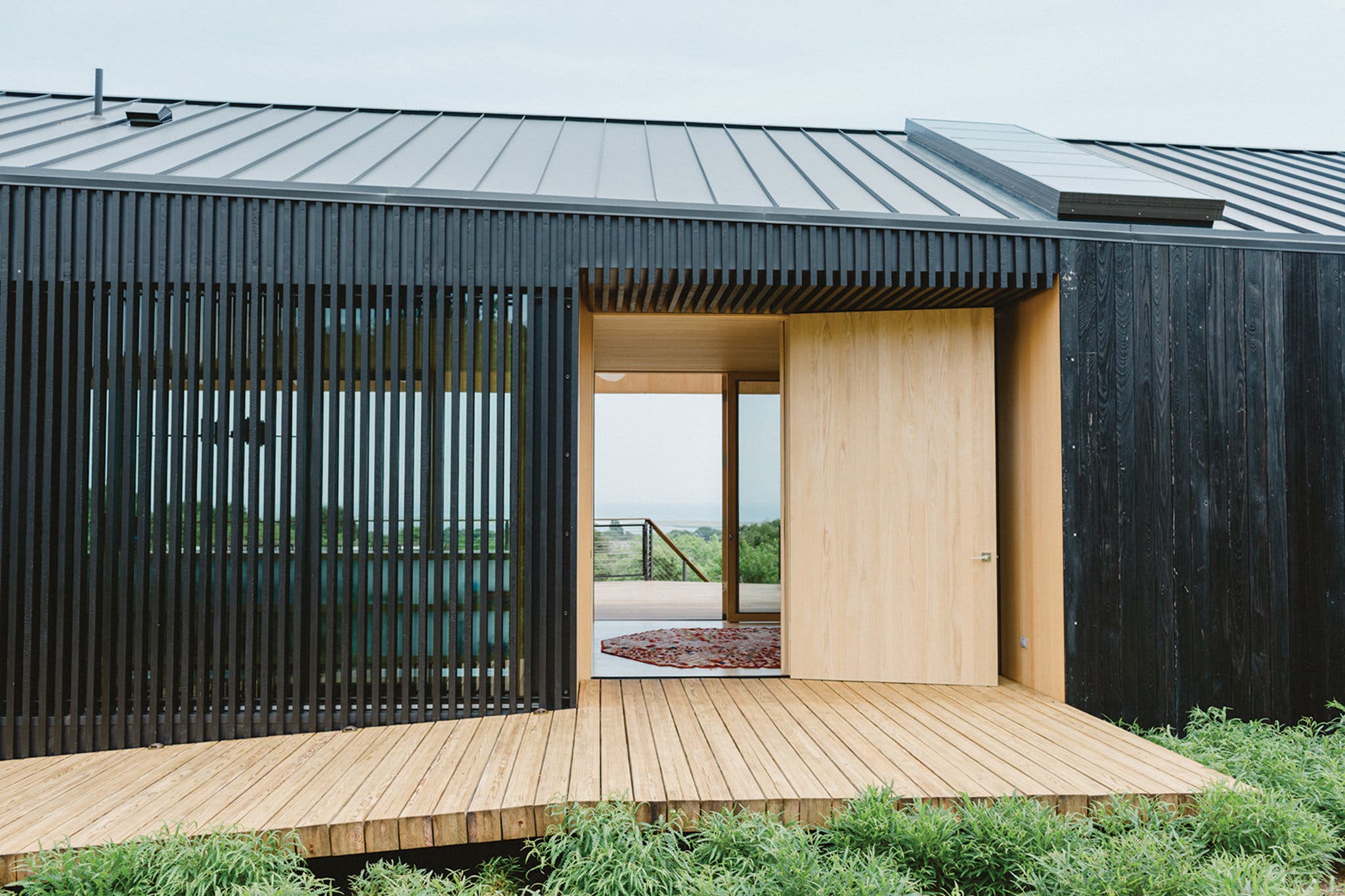 It's a counterintuitive but ingenious idea: heating wood to render it fireproof. If you've ever tried to rekindle a campfire using burnt logs, you get the idea. The combustion also neutralizes the cellulose in the wood — the carbohydrates that termites, fungus and bacteria love — making it undesirable to pests and resistant to rot. The resulting charcoal layer repels water and prevents sun damage as well. By some estimates, boards that have undergone this process can last 80 years or more, but Japan's Buddhist Horyuji Temple in Nara prefecture, whose five-story pagoda is one of the world's oldest extant wooden structures, has been around for much longer. Initially built in A.D. 607, the pagoda caught fire and was rebuilt in 711 using shou sugi ban.
ALTHOUGH THESE practical aspects appeal to contemporary builders, the deeper roots of the trend no doubt lie in our current collective hunger for all things artisanal — for creations that aren't sleek and mass-produced but contain the visible, sometimes-raw, but always original touch of the human hand. Like industrial lighting or reclaimed wood, shou sugi ban has a certain rustic, homespun appeal. The yearning for this aesthetic has led, over the past decade, to a general return to treating materials in traditional ways and, more specifically, to an adoption of principles that have long been fundamental to Japanese architecture: simplicity, the use of natural materials and a sensitivity to the surrounding environment.
But it's arguably the elegant beauty of charred wood — elemental, enigmatic and modernist at its core — that is shou shugi ban's greatest appeal. An impenetrable black surface lends a house an imposing aura of intrigue and depth: It's like an antiquity set down on the landscape with no explanation. ''I wanted to create a mysterious black box,'' says Ronald Knappers, a Dutch architect who built Villa Meijendel, a monolithic rectangular structure with a shou sugi ban facade that juts out from a forested dune near The Hague like a ship's prow. At night, its tarry exterior recedes into the surrounding darkness, so that only the glint of windows is visible — the effect, Knappers says, resembles ''an eye of glass.''
The unpolished, naturalistic quality of burnt wood also appeals to architects seeking to evoke a rough organic feel in tune with the surrounding landscape. It's bituminous-black and scaly, like alligator skin that's been singed. But such dark, reptilian wood is also startling and gorgeously eerie; a shou sugi ban house looks like it floated out of a dream. The Japanese architect Terunobu Fujimori frequently uses charred timber in his eccentric, fantastical creations: on the roof of his 2004 Too Tall Teahouse in the city of Chino, a tiny fairy-tale hut ­suspended high in the air on two spindly posts; and on the striped-shirt exterior of his aptly named 2007 Yakisugi House in Nagano City. Shou sugi ban, says Aaron Schiller, ''lends a sense of the natural or the mystical to a piece of architecture.''
OF COURSE, a house wrapped in a layer of jet-black charcoal is not everyone's cup of tea. ''The American architects who are using it often don't go the full route. It's a bit too extreme,'' says James Steele, a professor at the University of Southern California and the author of ''Contemporary Japanese Architecture.'' Brushing the burned boards removes the char and lightens the hue, while oiling them brings out the natural grain. Two niche wood companies, Delta Millworks in Austin and ReSAWN Timber in Telford, Pa., sell ready-made shou sugi ban siding, flooring and decking in pale slate gray and rich sable-brown finishes, which cater to more moderate American tastes, with eco-friendly, chemically modified woods (Kebony or Accoya).
But traditionalists maintain this isn't the real deal. ''Note yakisugi is a product, not a burnishing technique applied to any lumber,'' reads the website for Nakamoto Forestry, an 80-year-old Japanese company that in 2017 began to import authentic charred Cryptomeria japonica to the U.S.A. ''People think you can just go down to the lumberyard, buy wood and burn it,'' explains Bill Beleck, general manager at Nakamoto North America. You can't, he says: Not all woods take heat the way Cryptomeria japonica does, and if the burn isn't deep enough, the sooty layer will erode, taking the lovely black of your cladding, and its pragmatic fire- pest- and weather-resistant properties, along with it.
Yet even when shou sugi ban is executed traditionally, the sooty black char does eventually fade, leaving a chocolaty-brown or warm gray hue behind. This can be seen in Japan's many historic examples of the treatment, like public municipal buildings in the downtown of Kurashiki in southern Japan, which are close to 100 years old.
''A lot of people don't think shou sugi ban is for them, because it has this impermanence to it,'' says Anthony Esteves, a designer who learned about the method while studying in Japan and used it on the raven-colored rustic home he hand-built off the coast of Maine, burning all the siding himself in the time-­honored three-board method. But here, too, we might take a lesson from the Japanese, who view the patina that comes with age as desirable. The impermanence and its attendant imperfections are the point. ''Over time, my house will weather in this soft way,'' ­Esteves says. ''It's going to become more beautiful.''